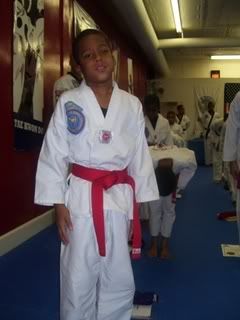 Thats my tired 8 yo son Isaac after a long 1hr Tae Kwon Do test to obtain his red belt. 
He's been in Tae Kwon Do for 2 years now and the Red belt symbolizes "Danger" and his move into the advance level. The test was incredible to watch and I sat in AWE of my son as he performed his pattern 2 times and then broke a board using his bare feet and one heck of a good Spinning Side Kick!
He was graded by a Black Belt and received B-'s  and up to A's on 13 catagories.  He was so proud of himself and I still havent wiped the grin off of my face.
To celebrate, I took 2 of his Tae Kwon Do Buddies out for Pizza and now they are here playing in his room (uhmmm very loudly)